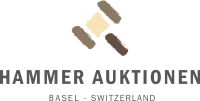 Weekly Auctions of Exceptional Items
Upcoming Auctions
Reviews
Past Auctions
Record Results
Upcoming Auctions from HAMMER AUKTIONEN AG
HAMMER AUKTIONEN AG has no upcoming auctions.

Follow this

auctioneer to hear about new auctions.
Bidder Reviews for HAMMER AUKTIONEN AG (197)
8 Latest ReviewsSee All
Pedro Alberto
Barcelona, Spain
Mr. Jean is Mr. helpfulness
Received those amazing rings lot, all of them made out of high grade silver therefore, best quality. I would love to thank Jean for being so kind and helpful, and I really appreciated all his efforts to make this whole thing possible during those unprecedented times. With love and respect, Lorenza
wonderful
During the pandemic, the auction house stayed in constant contact with me regarding packaging and shipping. They went above and beyond in customer service regarding payment as well due to my local bank closure and was very patient with me while sorting different means of payment. I will definitely bid with them again.
Peter
Binningen, Switzerland