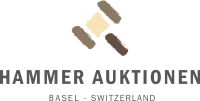 Weekly Auctions of Exceptional Items
Upcoming Auctions
Reviews
Past Auctions
Record Results
Upcoming Auctions from HAMMER AUKTIONEN AG
HAMMER 59 / Oceanic and Pre-Columbian Art - Asian and African Art
Oceanic and Pre-Columbian Art Asian and African Art
Starts Oct 09, 2020 12:00 PM EDT
Why can't I view the catalog?
HAMMER 60 / African Art
African Art Subject to change
Starts Oct 21, 2020 12:00 PM EDT
Why can't I view the catalog?
Bidder Reviews for HAMMER AUKTIONEN AG (242)
8 Latest ReviewsSee All
Henrik
Copenhagen, Denmark
high quality items to reasonable prices.
I can certainly recommend Hammer Auctionen. First time I have won items at their auction and I was really happy receiving the items-they were even more beautiful than my expetations and the prices were reasonable.
Great seller
Won items twice; auctions are very pleasant to watch and the service after sell is perfect. Great deal of knowledge around the items, which are always of good quality
Francois
Pully, Switzerland
One of the best
Very efficacious and reliable auction house.
Excellent, efficient, friendly, professional service
I had an exemplary experience with my recent purchase at Hammer Auktionen, the item was exactly as described, payment was very straightforward and the piece was shipped promptly. I have been buying at auctions all over the worl for many years, but this was undoubtedly one of the most positive and pleasant experiences. I will certainly now become a regular buyer from this auction house.
Jerry
Long Beach, California
That the item is fully explained and shows all perfections and imperfections
The entire experience was very nicely done and I liked the extent of the items available and the diversity made for an interesting time.
Pablo
Wilton Manors, Florida
Vertrauensw ü rdiges Auktionshaus.
Tolle Objekte; kompetente Expertisen und f ü r jeden Geschmack und Budget was Passendes! Was will man mehr.